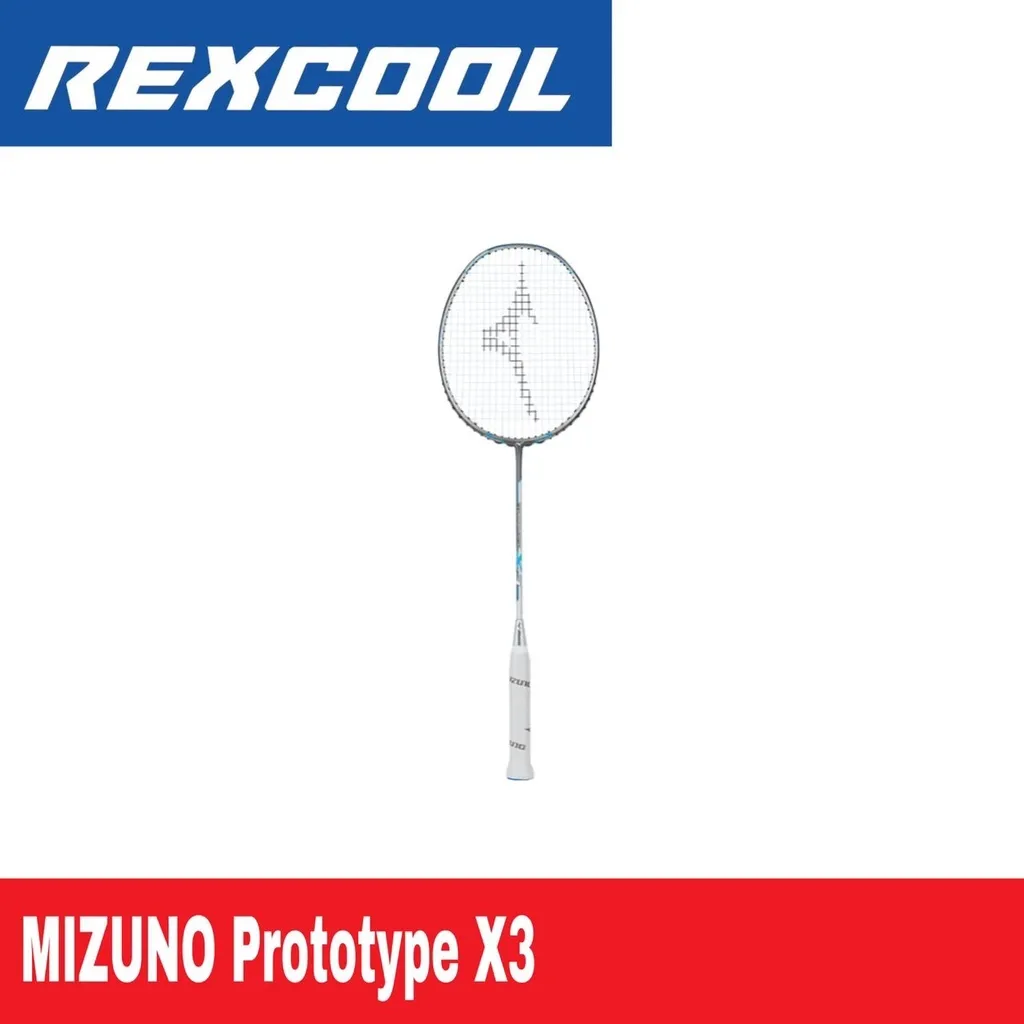 %
MIZUNO Prototype X3 Badminton Racket
Package includes: 1 x MizunoPrototype X3 Badminton Racket
1 x String
1 x Yonex Overgrip (AC102EX)

String option available as below:
BG6, BG65, BG65 TI, BG66, BG66 UM, BG66 Force, BG66 Brilliant, BG80, BG80 Power, NBG95, NBG98, NBG99, Aerobite, Aerobite Boost, Aerosonic, Skyarc, Lining No.1, Lining No.1 Boost, Victor VBS63, Victor VBS66N, Toalson Ion65, Maxbolt MBS63, Maxbolt MBS66.
Let us know your preferred string tension!!

SPECIFICATION:
COLOR: Charcoal/Silver Cloud/Cyan
LENGTH: 675mm
WEIGHT/SIZE: 4U5
FLEX: Medium
BALANCE: Head Heavy -[]-|-|-|-|- Head Light
MAX TENSION: 30lbs
CONSTRUCTION: Japan HMG T40

FEATURES:
- Diamond V-Frame
The precision engineered Diamond designs on the frame reduces any structural warping of the racquet during high speed rallies. This exceptional design ensures the stability of the frame without compromising the overall weight of the racquet.

- High Foam System
By using a special moulding technology, EVA foam is used on the internal of the frame. Strengthening the external frame and still keeping the flexibility of the inner frame. This construction enables the frame to absorb shock when hitting the shuttlecock and offers more power.

- Hot Melt Tech
The graphite sheets are heated at a higher temperature to further eliminate the impurities during the initial manufacturing process. This results in a smoother more consistent coating that not only strengthens the frame but enhances the aerodynamics of the graphite thus increasing the racquets velocity.

- Nano PEF
The shaft is constructed using 'Nano PEF' (Nano Polyethylene Fibre) which is light enough to float on water yet able to withstand immerse forces. These characteristics allow for maximum shock absorption.